Under the indicative property tax rates, the average owner-occupier in metropolitan NSW would be subject to an annual property tax of $2391 this year, with higher rates to apply for investors and commercial properties.
While the up-front costs would be significantly lower for those who opt for the property tax, it's unlikely to be a straightforward decision for many.
"The key factor is going to be how long you're going to hold the asset, obviously the cumulative cost of the property tax may exceed the stamp duty you pay up-front if you hold the property for a long time, that's going to be the key consideration both for owner occupiers and investors," said CPA Australia senior tax policy adviser Elinor Kasapidis.
House hunters on Sydney's lower north shore and the city and eastern suburbs fork out the most on duty, which totals $129,655 and $125,255 on each region's respective median house price.
Those on the northern beaches, upper north shore and in the inner west also stand to save more than $75,000 upfront.
Source: Domain. Median price is based on sales data for the September quarter.
STAMP DUTY PAID ON MEDIAN UNIT PRICE
Region
Stamp Duty Cost
Median Price
Canterbury Bankstown
$19,185
$530,000
Central Coast
$19,410
$535,000
City and East
$38,085
$950,000
Inner West
$30,120
$773,000
Lower North Shore
$38,085
$950,000
North West
$26,655
$696,000
Northern Beaches
$37,185
$930,000
South
$25,980
$681,000
South West
$16,710
$475,000
Upper North Shore
$29,029
$748,750
West
$19,860
$545,000
Stamp duty for apartment buyers was also highest across these five regions, ranging from about $29,030 on the upper north shore to $38,085 on the lower north shore and in the city and east.
While the largest up-front savings would be in Sydney's pricier regions, Dr Powell said, it remains to be seen whether expensive homes would qualify for the new tax, with the state government flagging it could initially set price thresholds at a level which would still allow more than 80 per cent of residential properties to opt in.
No specific thresholds have been set, but Domain data shows 80 per cent of homes sold in NSW last quarter were traded for below $1.18 million. In Sydney alone, 80 per cent sold for below $1,465,000.
Dr Powell said the changes could reduce demand short term – as people delayed buying to avoid stamp duty – but could put upward pressure on prices when introduced, as some may add the up-front savings onto their purchase price.
She added stamp duty equated to between 3.5 and 5 per cent of median prices across all Sydney regions. As it was greater on more expensive properties, these could see the biggest uptick in prices if they qualified for the tax.
Ms Kasapidis noted that under the change, once a property was subject to the tax, subsequent owners won't be able to revert back to stamp duty.
In addition to how long a buyer hopes to hold a property, Ms Kasapidis said block sizes and when a home was built could also impact the decision to opt in.
For instance, the property tax on two neighbouring blocks of the same land size – one with an old house and one with a brand new house – would be similar, but stamp duty based on the different sale price of both properties would be more varied.
"Essentially where a lot of the value is in the capital improvement, you would expect property taxes to be lower," Ms Kasapidis said.
The deductibility of a property tax could also be a key factor for investors, Ms Kasapidis said, as they could deduct taxes annually but only claim stamp duty costs when they sell the property. As could how the different options impact financing arrangements.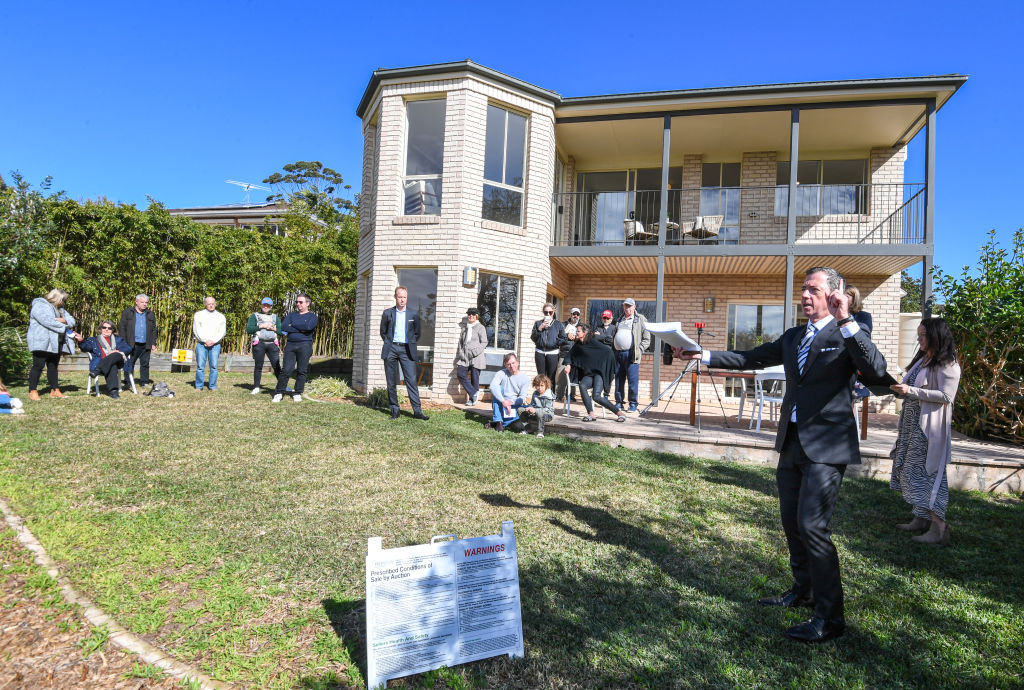 Real Estate Institute of NSW (REINSW) chief executive Tim McKibbin said there was a risk buyers would pause their plans – until there was further clarification on the reforms – as the market was seeing a delicate rebound after a challenging year.
" REINSW members have cited numerous examples of purchasers who, as a result of the announcement, now plan to abandon their search for a property in the immediate term," Mr McKibbin said.
Thomas McGlynn, head of sales at inner-city agency BresicWhitney, said there had been plenty of queries from buyers and sellers on what the changes meant for them. But when they realised reforms would be months in the making, they still wanted to make their market move sooner rather than later.
"On the ground there's been a massive amount of activity [in recent weeks] and certainly an increase in prices in some areas," he said. "Many people feel … they're better off paying stamp duty to get into the market in the short term."
From Domain