Renters have made huge savings across a swathe of sought-after suburbs in inner Sydney, with median rents falling by hundreds of dollars a week in some top neighbourhoods.
Median rents across 57 suburbs dropped by 10 per cent or more over the year to December, new figures show, with many of the largest percentage drops for units in the city centre and eastern suburbs.
Millers Point recorded the biggest drop, with median weekly asking rent for units falling a whopping $305 — or 30.5 per cent — to $695 a week. The Sydney CBD and Pyrmont both recorded unit rents fall of $150 a week, or 20 per cent and 18.5 per cent respectively, while asking rents in Haymarket fell $140.
"Some property owners were accepting up to a 30 per cent drop in their rent," said Kate Sommervelle, of Ayre Real Estate, about the city apartment market.
Source: Domain Rent Report, December quarter 2020.
LARGEST UNIT RENT FALLS
Suburb
Median Asking Rent
Annual change
Millers Point
$695
-30.5%
Bass Hill
$465
-30.1%
Revesby
$480
-25.0%
Sydney
$600
-20.0%
Pyrmont
$595
-18.5%
Greenacre
$400
-17.9%
Dundas Valley
$455
-17.3%
Haymarket
$680
-17.1%
Padstow
$460
-16.4%
Chippendale
$550
-15.4%
These traditionally in-demand areas had been dealt a double whammy, Domain senior research analyst Nicola Powell said, with increased unit supply after the building boom, but reduced rental demand due to ongoing border restrictions in the coronavirus pandemic.
Areas typically popular with international students, tourists and new migrants, had been particularly hard hit, while lockdown and the rise of remote working reduced the appeal of inner-city living, Dr Powell added.
But those hoping to find a bargain may have to get in quick, with agents reporting a pick up in demand over the Christmas break and rentals that had been sitting empty leased in the first fortnight of the year.
"We were inundated with inquiries, and leased over 10 properties in the past week," Ms Sommervelle said, as people realised covid was here to stay and were done putting off plans to move. She expected interest in city properties would increase as more workers returned to offices.
Source: Domain Rent Report, December quarter 2020.
LARGEST HOUSE RENT FALLS
Suburb
Median Asking Rent
Annual change
Malabar
$950
-20.8%
Double Bay
$1,400
-20.0%
Pyrmont
$700
-17.6%
North Manly
$850
-14.1%
Seaforth
$1,200
-14.0%
Blakehurst
$680
-13.9%
Rose Bay
$1,400
-12.5%
Woollahra
$1,288
-12.4%
Waverley
$1,100
-12.0%
Balmain East
$970

For houses, it was Double Bay in the eastern suburbs that had the largest price drop in dollar terms, with the median rent falling $350 to $1400 a week. House rents in Rose Bay, Woollahra, Waverley, Coogee, Malabar, Seaforth and Pyrmont also dropped by $150 or more a week.
Price falls made it easier for renter Elyse McDonough to move out of her family home in the Hills District last last year, and into a two-bedroom unit in Bellevue Hill, where the median apartment rent is down 1.2 per cent to $615 a week.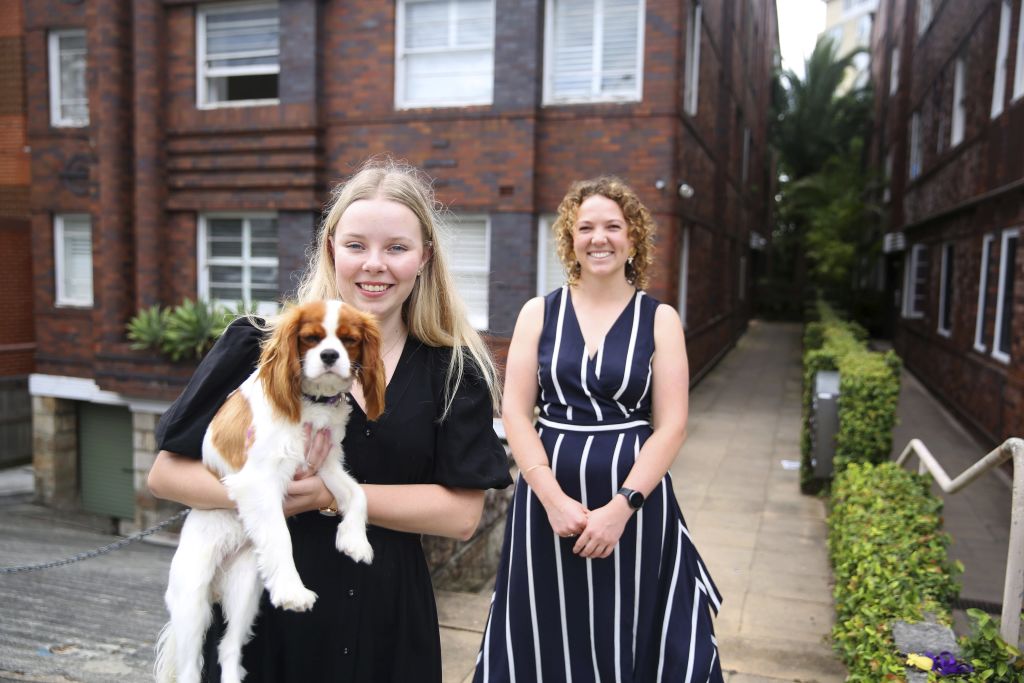 "I work in the east, so wanted to move closer for my job because it took me an hour-and-a-half each way," Ms McDonough said, adding prices in the area had been very steep when she'd previously looked.
She now rents with a housemate for $550 a week. Their unit was advertised for $640 back in 2018, and returned to the market for $600 last year.
"I'm loving it, it's been great for work and if offers a great lifestyle. It's close to the beach and lots of cafes," she said.
Mitch David, of Biller Property, said house rents have started to rise again in suburbs such as Double Bay and Bellevue Hill as expats returning to their high-end homes created a shortage of prestige rental stock.
"Prices are still low, but because there is more demand now they should creep up in the next few months," he said.
Source: Domain Rent Report, December quarter 2020.
LARGEST UNIT RENT GAINS
Suburb
Median Asking Rent
Annual change
Blakehurst
$450
17.6%
Edmondson Park
$450
7.1%
Brookvale
$550
4.8%
Camden
$395
4.6%
Cronulla
$500
4.2%
Balgowlah
$625
4.2%
Norwest
$540
3.8%
Narrabeen
$590
2.6%
Caringbah
$480
2.1%
Gymea
$480
2.1%
More tenants were looking to upgrade to larger homes or properties in better locations amid the weaker market conditions, agents reported.
Some neighbourhoods bucked the trend, with rents rising over the past year as tenants moved to the middle and outer suburbs in search of more space.
Palm Beach, Collaroy and Newport on the Northern Beaches, Kenhurst in the north-west of the city, Gymea Bay in the south, and Lindfield and St Ives Chase on the upper north shore, were among the suburbs where house rents saw a double digit percentage rise.
Source: Domain Rent Report, December quarter 2020.
LARGEST HOUSE RENT GAINS
Suburb
Median Asking Rent
Annual change
Dover Heights
$1,750
20.3%
Rossmore
$570
18.8%
Kenthurst
$650
18.2%
Palm Beach
$1,475
18.0%
Collaroy
$1,250
16.3%
Lindfield
$1,150
15.6%
St Ives Chase
$1,150
15.0%
Gymea Bay
$800
14.3%
Woodpark
$520
13.0%
Summer Hill
$780
12.2%
Price falls did also spread to middle and outer suburbs, with unit rents dropping by about 30 per cent in Bass Hill in Sydney's west, with sizeable drops also seen in Revesby, Greenacre and Padstow, which already recorded drops of more than 15 per cent.
Alex Sekulovski, of John B Grant Real Estate, said the high supply of new units in the nearby suburbs of Auburn and Bankstown, had put downward pressure on rent in areas like Bass Hill. There was also less rental demand from migrants and international students due to border closures.
"At the same time people could spend $480 for a unit, or in the low $500 range for a house, so more people are upgrading at the moment."
Despite softer rents across much of the city, the Tenants' Unions of NSW was still inundated with calls for help over the holiday period, with about 430 calls made over the two weeks, seven of which were on Christmas Day.
"We are still getting a lot of people calling," said chief executive Leo Patterson Ross. "People having to move either because they're being evicted or because of affordability issues — partly because of JobSeeker and JobKeeper payments dropping partly because of the influx of renters into a lot of fringe and regional areas."
Mr Patterson Ross noted savings in more affordable pockets of the city had been more subdued, with rents in some outer areas on the rise due to increased demand for cheaper homes.
"The rent falls are not enough and they're not in the right places to make a difference for lower income households," he said.
He added further cuts to support measures and the end of the eviction moratorium in March would place further pressure on renters, many of whom had already exhausted their savings to hold onto their homes.
Copied from Domain