Ray White Upper North Shore's David Walker said all registered parties were families looking to upsize from their current properties.
"That's probably the most popular house price range [in the local area] and there's only a handful of properties available in that price range," Mr Walker said, adding that more than 200 groups had inspected the property.
He said the sheer demand for the limited number of properties available was driving up prices.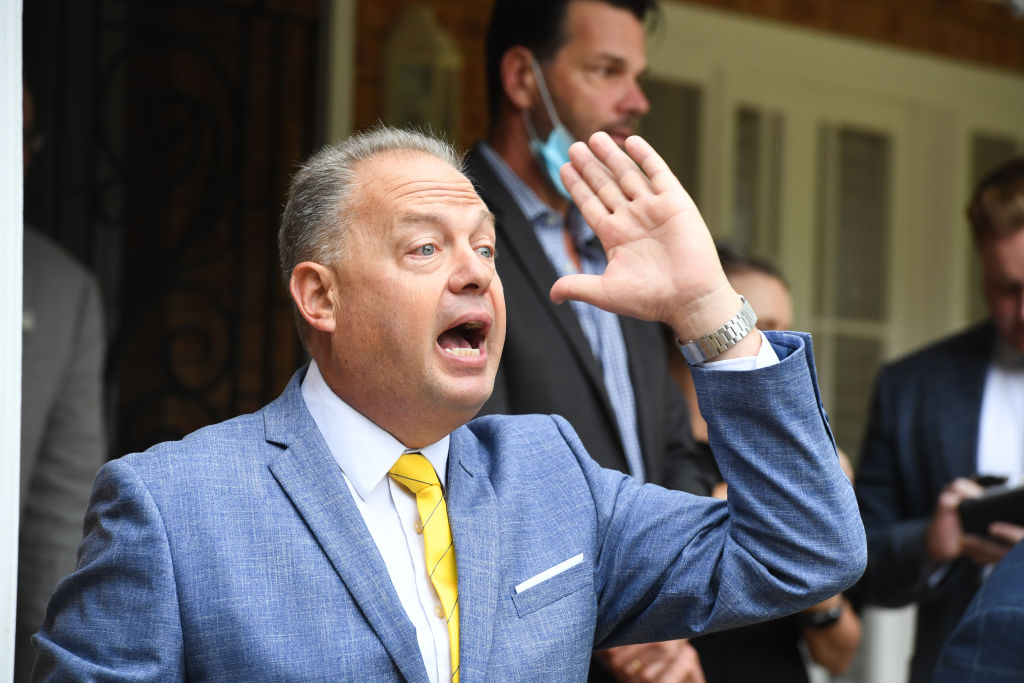 The 1,005-square-metre block last sold for $965,000 in 2010, records show, with the sale price more than doubling since then.
Wahroonga's median house price rose 10.2 per cent to $2.005 million last year, new Domain figures reveal.

In North Ryde, a "monster crowd" braved the weather to watch 19 Holt Street go under the hammer, including a dozen registered bidders.
The auction began at $1.5 million as multiple parties vied for the keys to the four-bedroom house.
The hammer fell at $1.98 million – selling $80,000 above reserve to a young family who were looking to upsize.
Auctioneer Michael Garofolo of Cooley Auctions said the city's property market was set to have a strong selling season.
"The market has picked up where it left off in December. It finished off really strong" Mr Garofolo said. "It really will set the tone for the year, barring another setback or another outbreak during the year."
North Ryde's median house price rose 10.3 per cent to $1,640,000 in the year to December 2020, according to Domain's latest house price report.
It sold through Active Real Estate's Vera Wong.
In Mosman, nine parties registered to bid on a three-bedroom unit at 7/40 Stanton Road.
Bidding started at $1.6 million, rose in big increments and quickly turned into a two-person race.
The unit sold for $1.875 million – $75,000 above its reserve – to a young northern beaches family who were looking to move closer to the city.
LJ Hooker Avnu's Adrian Bridges said fear of missing out was creeping back in as buyers had observed price growth in the past few months.
"Interest ramped up significantly in the last week of the campaign because buyers weren't seeing more homes in the market," Mr Bridges said. "We sold a number of properties in January, which is traditionally a quiet month."
"This week definitely sets a trend for the rest of the year … we're expecting a really busy first half of the year."
The unit last sold for $1.521 million in 2016, records show.
Mosman's median unit prices dropped 3.3 per cent to $1.04 million in the past year, Domain figures show.
In North Parramatta, 11 buyers, including first-home buyers and investors, registered to bid on a three-bedroom unit at 7/32 Harold Street.
The auction opened at $640,000 with the price increasing in $10,000 jumps as six parties placed bids, before slowing down to $500 increments.
It sold for $725,000 – selling $15,000 above reserve – to a young couple.
McGrath Parramatta principal Kon Stathopoulos said despite an oversupply of apartments, good-quality properties, priced well, were attracting different buyers.
"You've got a lot of positive factors that are stimulating the property market," Mr Stathopoulos said. "The return of suburbia [due to COVID-19] changed the way people live and work."
The property last sold for $419,950 in 2009, records show. North Parramatta's median unit price is $550,000.
It was one of more than 30 properties scheduled to go under the hammer with McGrath Parramatta on Saturday, with most selling successfully.

An apartment in North Rocks passed in as neither of the interested first-home buyers had their finance approved in time, according to Mr Stathopoulos.