Australian property values grew at their fastest rate in 17 years over February, with every capital city rising due to government stimulus, improving economic conditions and the limited number of homes on the market, new data reveals.
National home values surged 2.1 per cent in February to a of $598,884 – the largest month-on-month increase since August 2003, according to CoreLogic's national home value index.
The two biggest capital cities led the way, recording the strongest growth: Sydney's home value rose 2.5 per cent to $895,933, and Melbourne's rose 2.1 per cent to $717,767.
Hobart property values also recorded a 2.5 per cent rise to $535,994.
CoreLogic's research director Tim Lawless described the property market's growth as "phenomenal" against the backdrop of the pandemic.
"These are extraordinary numbers," Mr Lawless said. "When you look at how broad-based in nature this property growth upswing is, we haven't seen every capital city and regional markets rising since post-GFC."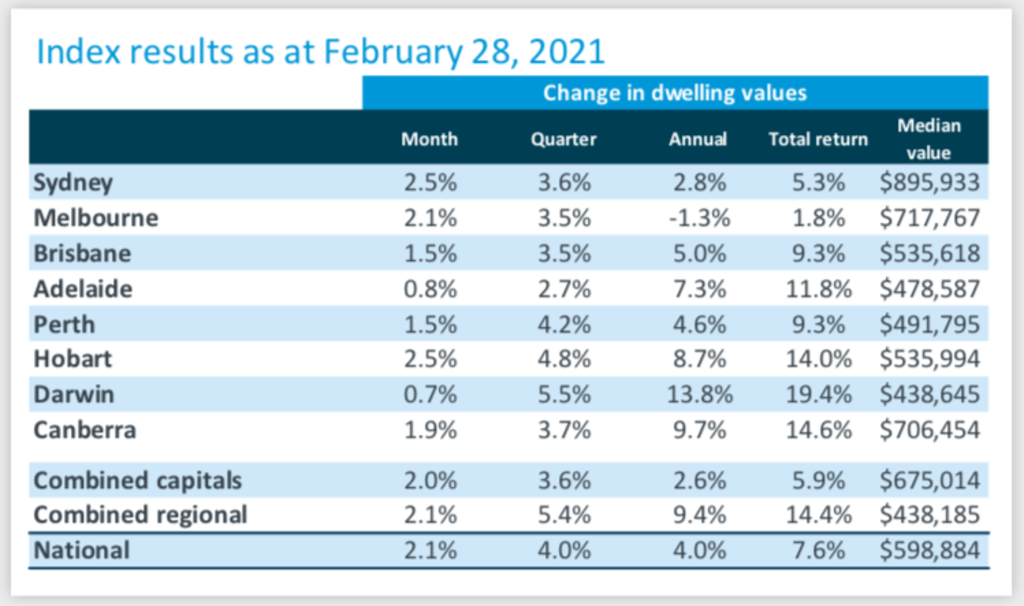 Last year's exodus out of capital cities has also continued to bolster the value of combined regional markets, growing 2.1 per cent in February compared to 2 per cent of the combined capitals
"We're seeing regional markets outperform capital cities. The last time we saw regional growth was back in October 2003. This stands out as quite a phenomenal month of growth in the context of history," Mr Lawless said..

Record low interest rates were at the core of this growth, according to Mr Lawless, but also economic conditions beating last year's pessimistic forecasts, which has as a result fuelled positive consumer confidence to buy bricks and mortar.
"Consumers are a lot more confident but that's against low supply levels," he said. "In many ways you've got a mismatch between supply and demand that is creating a lot of urgency amongst buyers, which is a key factor in pushing house prices."
Housing affordability would restrain price growth at some point but talks of a property bubble were "premature", Mr Lawless said.
He said Sydney property values were still 1.1 per cent lower than its 2017-peak and Melbourne values were still 1.7 per cent below its previous record high in March 2020.
"Considering we're still seeing national housing values mildly higher than four years ago, it's premature to talk about a bubble," he said. "If housing prices continue to rise well beyond income growth … then housing affordability will naturally slow the growth as fewer buyers are able to participate."
Unit values continued to be weaker than house prices – a trend that has persisted throughout the COVID-19 period until now, according to the index.
But that could change, Mr Lawless said, as Sydney unit values recorded their first month of growth since April last year, as did Melbourne, which recorded its largest gain since late 2019.
It comes as homes selling under the hammer are attracting knock-out crowds and dozens of buyers, many with a sense of 'FOMO' — a fear of missing out — which is driving prices higher and often smashing price expectations, Domain's senior research analyst Nicola Powell said.
It was a challenging market for buyers, she said. "This market is not for the faint-hearted and it is challenging conditions for buyers to purchase under.
"The only winners out of a rising market like this are those who are downsizing and are tapping out of a real estate market."
While low stock levels were making it difficult to find a home, the strong results would encourage more sellers to eventually list their homes, Dr Powell said.
"This will help alleviate the heated conditions in certain areas," she said. "Until we see new listings we will continue to see strong levels of price growth in coming months."